This is a sponsored post written by me on behalf of Cottonelle.
There's no doubt that Christmas time is one of my favorite times of the year.
There are so many wonderful things to do and see!
But as Christmas gets closer, I realize I am needing more of a few things!
The first thing I could always use more of is Christmas lights!!
Seeing this amazing Rockefeller Tree in person was one of my dreams come true!
Christmas lights just have a way of making the cold winter nights so much warm and brighter.
The second thing I could always use more of around the holidays is SNOW!
Of course, it's always nice when it snows on a weekend or
when little man is off from school.
That way I can stay home with warm food, some hot chocolate and I
don't have to drive/slide around town! 🙂
The last thing I really want more of this Christmas season is time!
Even Time Square can't give me any more minutes in these magical days. 🙂
More time to decorate, more time to cook, and more time to just enjoy the season.
More would just be better!
Cottonelle Clean Care has 25% more sheets per roll than the competitor.
Although I can't acutally get more time in my days,
with Cottonelle, I can get more!
Want to chat more? You can follow conversation on Twitter at #MoreIsBetter hashtag.
Speaking of more, could you use $100 more this holiday?
Now through December 20th, you can enter daily to win a $100 American Express gift card!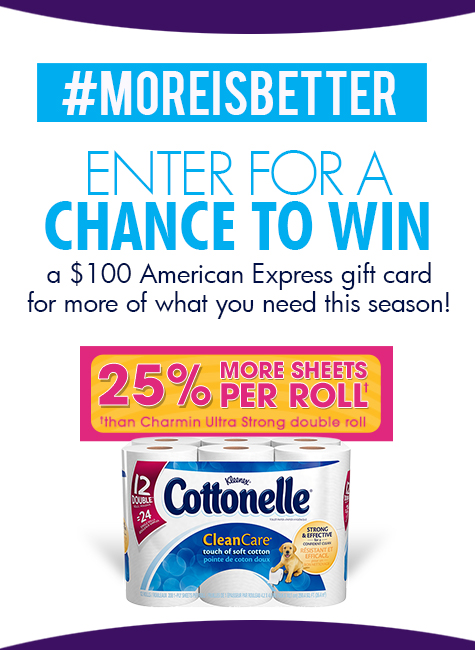 The giveaway is open from Monday December 9 and ends Friday December 20.

You may enter this promotion daily for a chance to win.

One winner daily will be selected daily to receive a $100 American Express gift card for themselves.

Winners will be announced daily on the SITSGirls Facebook page: https://www.facebook.com/SITSGirls.
Don't forget, you can enter this giveaway once each day!
Good luck! 🙂
Now tell me,
what do you want more of this holiday season?

This is a sponsored post written by me on behalf of Cottonelle.
You can also follow me here:
DID YOU LIKE THAT? WANT MORE?
GET ALL OF my best tips on DIY, home decor, & life delivered directly to your EMAIL inbox!